2018–19 summer: Peanuts on grey soil, Bundaberg
Grower: Chapman Family. Tony has grown peanuts on and off for the past 18 years and does his own crop monitoring with the help of his son Mitch. Agronomic support is provided by consultant Peter Hatfield.
Farming system: The Chapmans run all farming operations, including the peanuts, under a controlled traffic and zonal tillage system. They follow a 5-year rotation of plant cane + 3 ratoons followed by either peanut or soybean, then field pea before returning to plant cane in spring.
The Chapmans are keen to use cover crops ahead of planting their summer legume. Having previously tried tillage radish with good results, this year they have tried a multi-species cover crop ahead of this peanut crop.
Location: Calavos, Bundaberg
Monitored area: 11.5 ha, irrigated block, grey soil
Pre-plant preparation
26 June 2018 – cane harvested. Stool removed using zonal tillage to cultivate a 1.2 m bed.
3 July 2018 – Multi-species cover crop of sunflower, tillage radish, barley and field pea planted by broadcasting. Good germination achieved, even up to 50% germination in uncultivated wheel tracks. Good moisture storage for the peanut crop to follow.
8 September 2018 – sprayed out cover crop using knockdown herbicides RoundUp and 2,4-D.
Lime and dolomite broadcast before planting peanuts.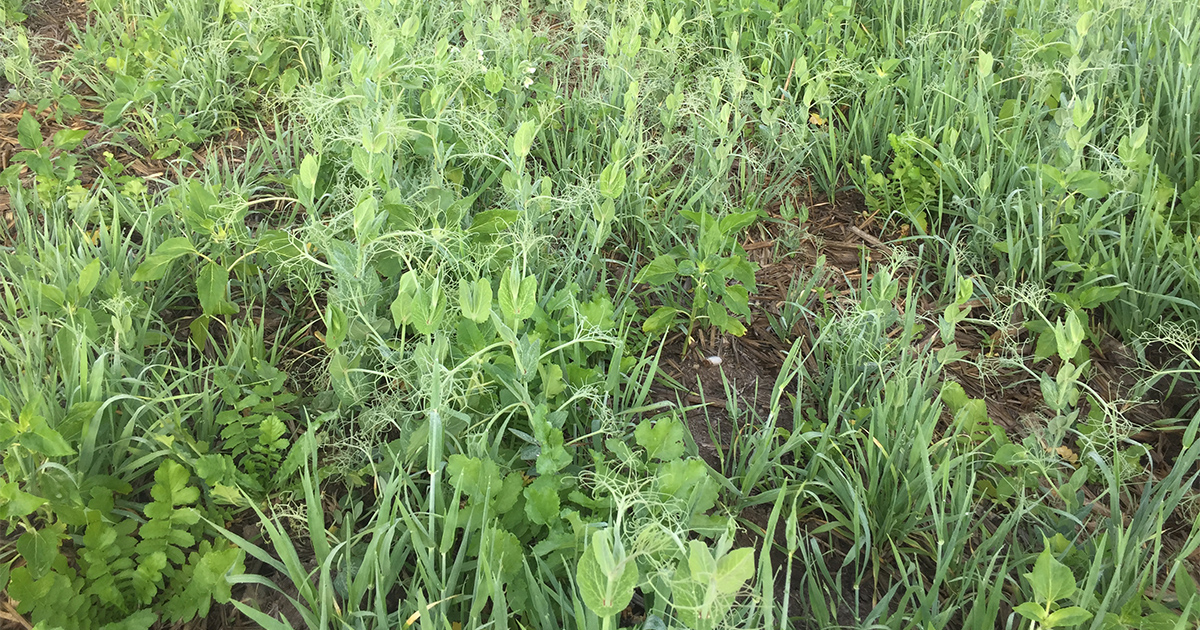 Multi-species cover crop of sunflower, tillage radish, barley and field pea.
Weeks 1–7
Management notes:
7 November 2018 – Kiari peanuts direct drilled into beds at a sowing rate of 160 000 seeds per ha.

Good moisture retained from cover crop. Double row beds sown 685 mm apart under controlled traffic system with wheel spacings 1.83 m.
Seed inoculated at planting using water injection of group P peanut inoculant.
Recommended fertiliser blend also applied at planting.

9 November 2018 – post-planting application of knockdown (Gramoxone) and residual (Dual Gold) herbicides to control ratoons, cover crop survivors and other existing weeds.
12 November 2018 – low pressure overhead irrigation. Good moisture at depth.
Late November – zinc, gypsum, urea and sodium molybdate applied together.
13 December 2018 – chlorothalonil fungicide (Barrack 720) applied as protective control of leaf spot and rust.
24 December 2018 – manganese sulphate and magnesium nitrate applied.
29 December 2018 – second application of Barrack 720, with Solubor.
Week 8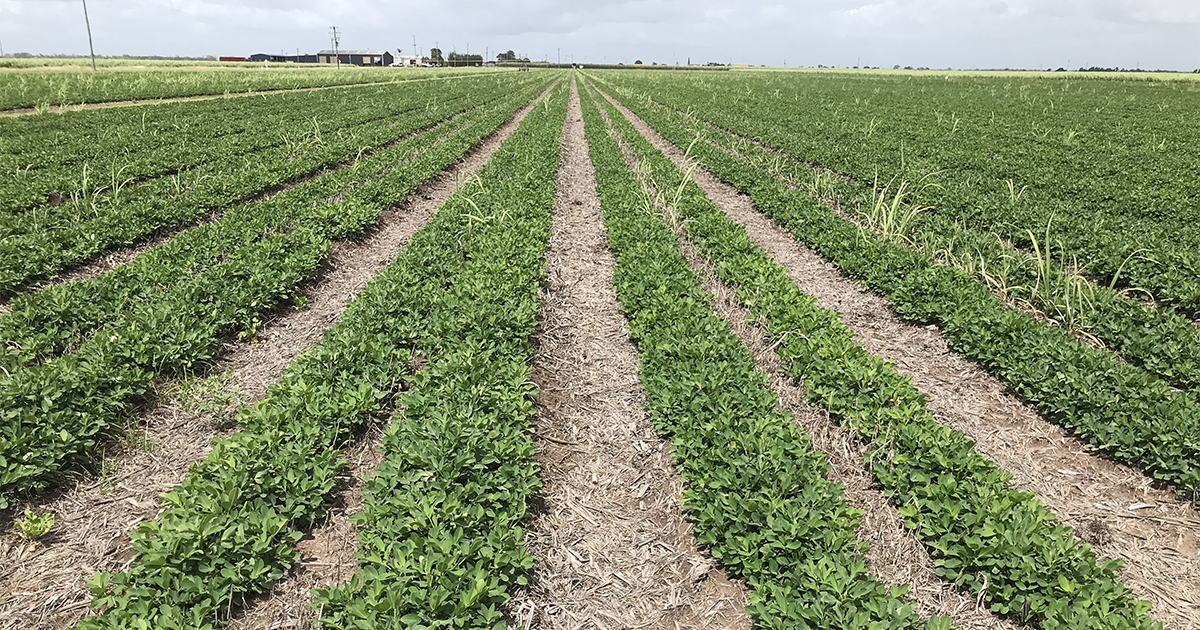 Management notes:
Crop is flowering well and plants are healthy.
1 January 2019 – a Verdict herbicide application was made to control grass weeds.
3 January 2019 – low pressure overhead irrigation.
Tony plans to apply Flame herbicide for broadleaf and nutgrass control and to continue monitoring for heliothis to act with a Vivus Max application when necessary.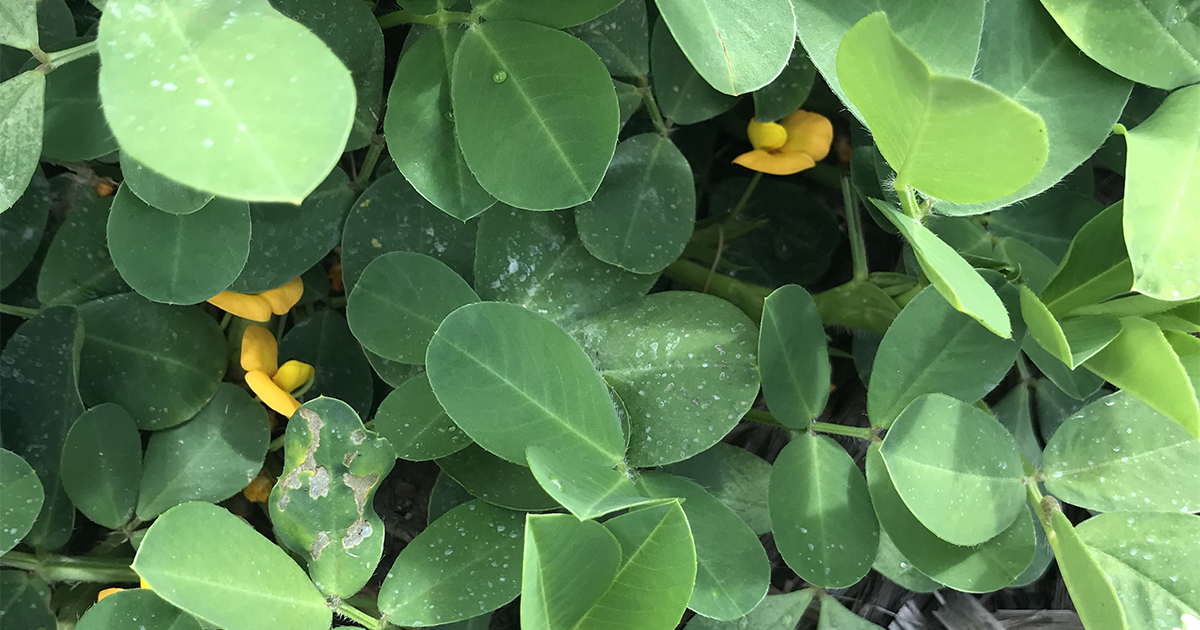 Week 9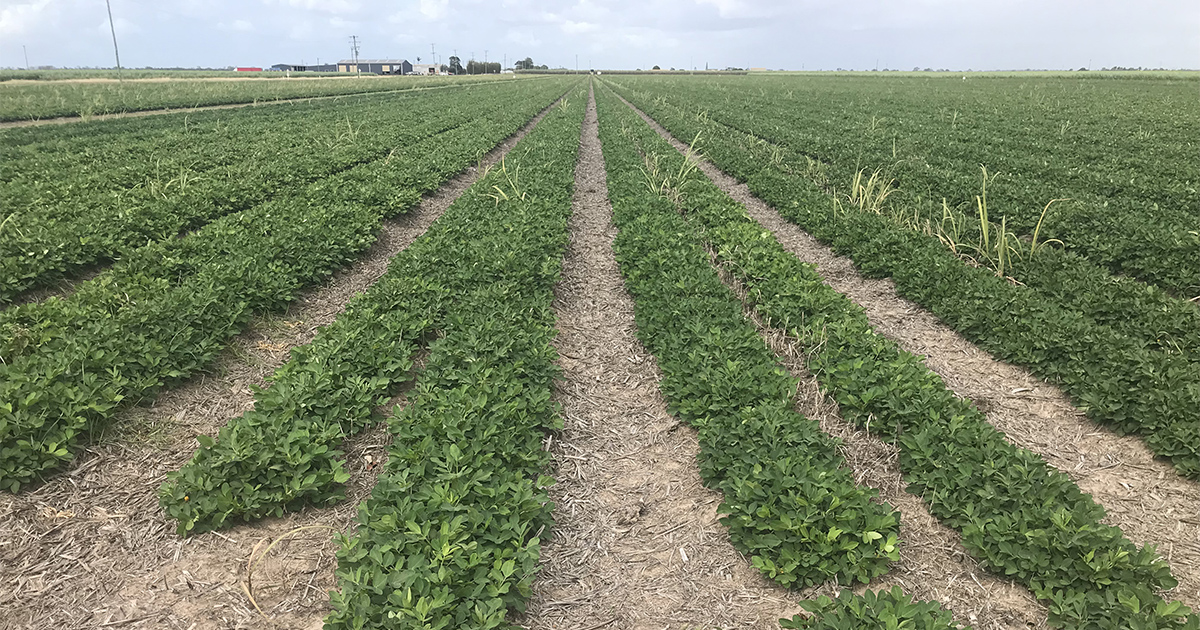 Management notes:
Post-emergence and pre-emergent herbicide application of Flame and Blazer with Hasten to control ratooning cane, emerged broadleaf and grass weeds and nutgrass.
Evidence of herbicide burn from the use of Blazer on peanut leaves and a very small amount of chew damage on leaves, otherwise a healthy-looking crop.
Flowers are still present.
Pegs about 80–90 mm long were observed.
Tony has scheduled an irrigation in the coming week as well as another application of Barrack 720 (chlorothalonil) fungicide for protective measures against leaf spot and rust.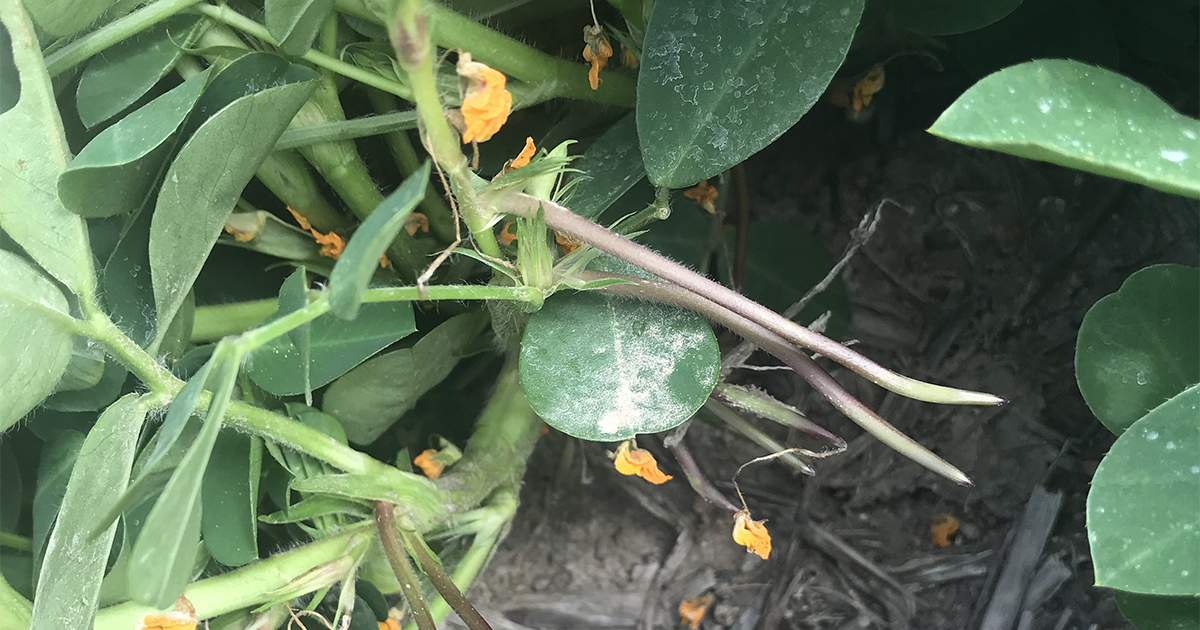 Pegging underway
Week 10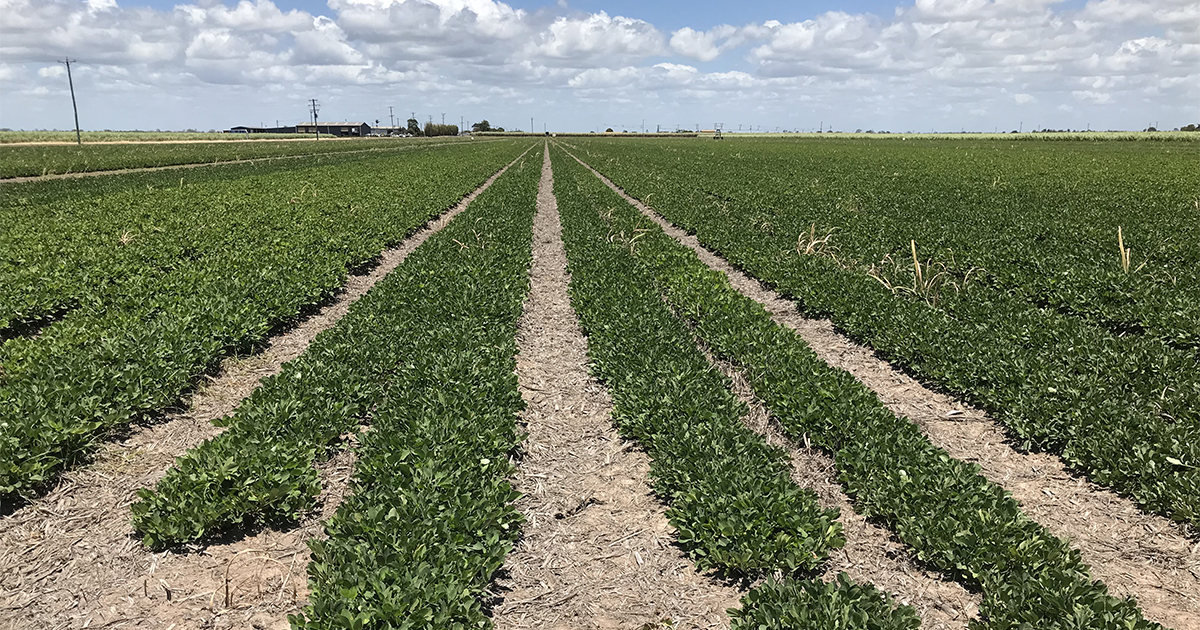 Management notes:
Ratooning cane sprayed with post-emergence herbicide 2 weeks ago is dying off.
Small amount of chew damage on older leaves.
Flowering has slowed but new flowers are still evident.
Row closure within the bed has occured across about 80% of the field.
The crop is generally healthy however yellowing of new leaves was observed in majority of the block, suggested to be because they emerged soon after an irrigation.
The block was irrigated this week and Barrack 720 fungicide was applied.
Soil moisture level will be closely monitored and another irrigation applied if necessary in the coming week.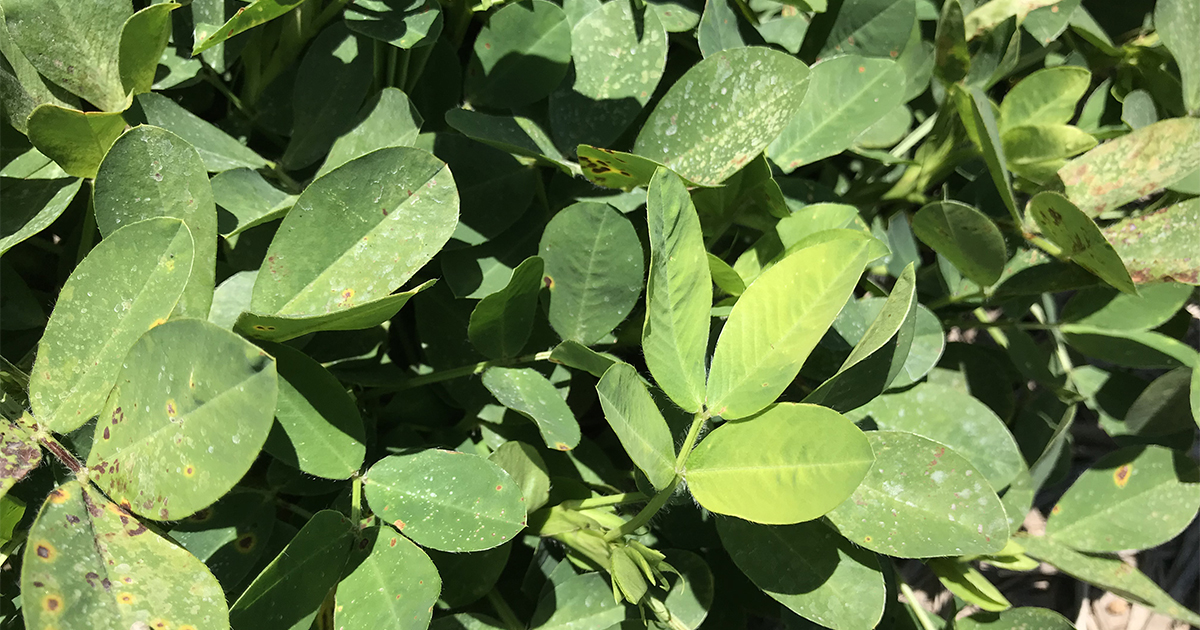 Slight yellowing of new leaves following irrigation.
Read Pulse Check blog articles | Pulse Check Coastal facebook | Subscribe to the monthly newsletter