2019 Field Pea on grey soil, Calavos
Grower: Tony Chapman, Chapman Ag. Tony has been growing field pea for many years and has needed to learn-on-the-job as field pea varieties are not often grown so far north or in coastal environments.
Location: Calavos, Bundaberg
Monitored area: 20 ha, grey soil, irrigated
Crop rotation: Cane harvested October 2018, soybean harvested early May 2019. This crop of field peas will be grown with the intention to harvest grain. The growing season is approximately 12-14 weeks long.
Maki is a northern field pea variety more commonly grown on the Darling Downs and Northern NSW, north of the Macquarie Valley. Tony uses field pea to improve soil fertility and to fill the gap in the rotation over winter. Cane will be planted immediately after the field pea crop is harvested.
Maki is a green-seeded blue pea that is suitable for human consumption or stock feed. It has very low levels of Trypsin Inhibitor Activity, which is a significant anti-nutritional factor for livestock. The variety produces grain with a low hard seed count and shows good resistance to seed bleaching.
Week 1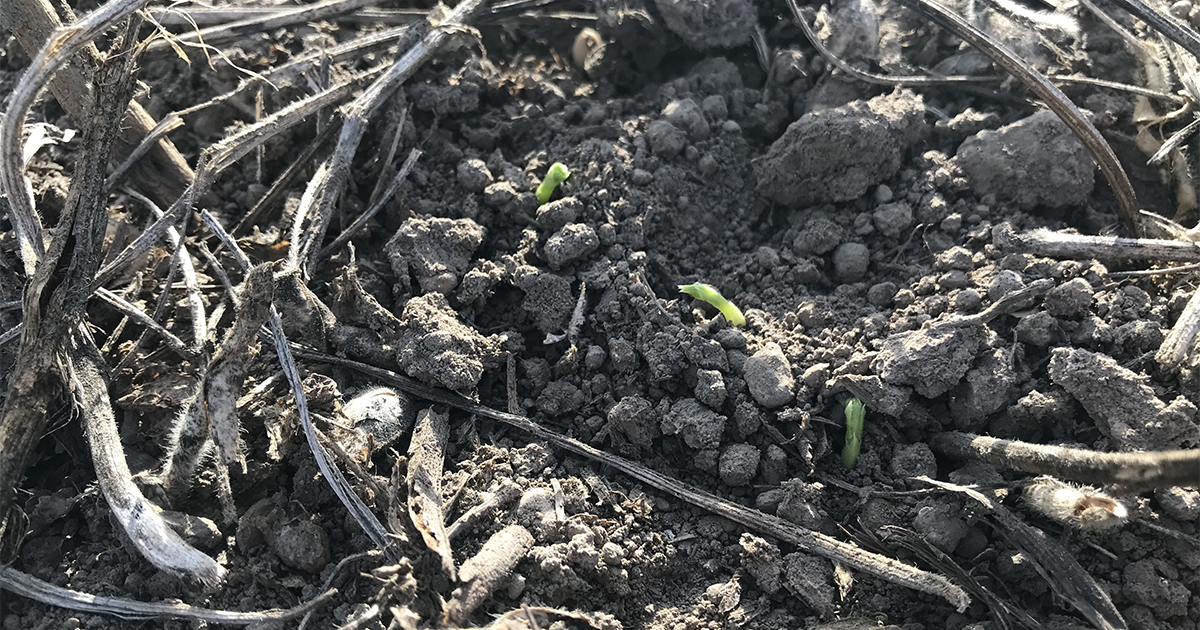 Maki field pea seedlings emerging just a week after planting.
Management notes:
Maki field peas planted on Wednesday 22 and Thursday 23 May.
Planting rate of 450,000 seeds/ha to achieve establishment rate of 400,000 plants/ha.
Seed inoculated with field pea peat inoculant (Group E) using water injection method at seeding [1 kg bag peat per 500 kg of seed].
Seed was direct drilled into soybean stubble with 4 rows per bed (rows 280 mm apart), with controlled traffic spacings of 1.83 m.
A recommended fertiliser blend was band applied at planting at 160 kg/ha.
The block was sprayed with paraquat non-selective herbicide and a wetter post-plant pre-emergence of the crop, on the 26 May to control any volunteer soybeans and other weeds.
There is enough moisture in the soil for germination, however the crop will be irrigated when necessary.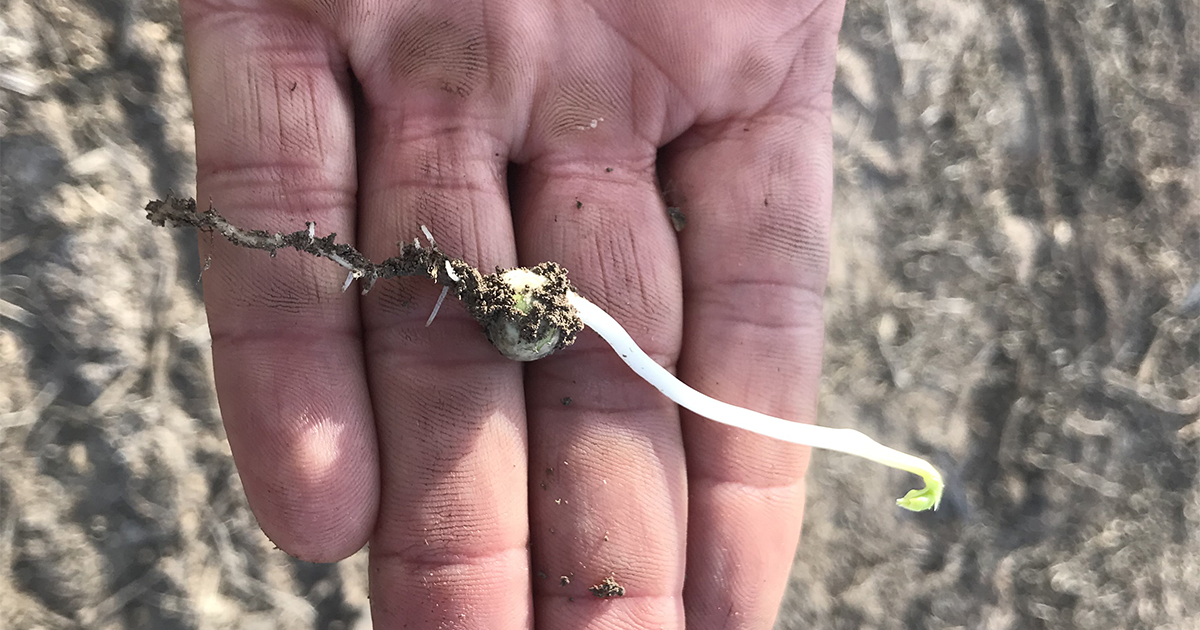 Emerging field pea seedlings are quite a vigorous as their cotyledons remain underground (hypogeal emergence) and do not need to be pushed to the surface (e.g. mungbean – epigeal emergence).
Week 2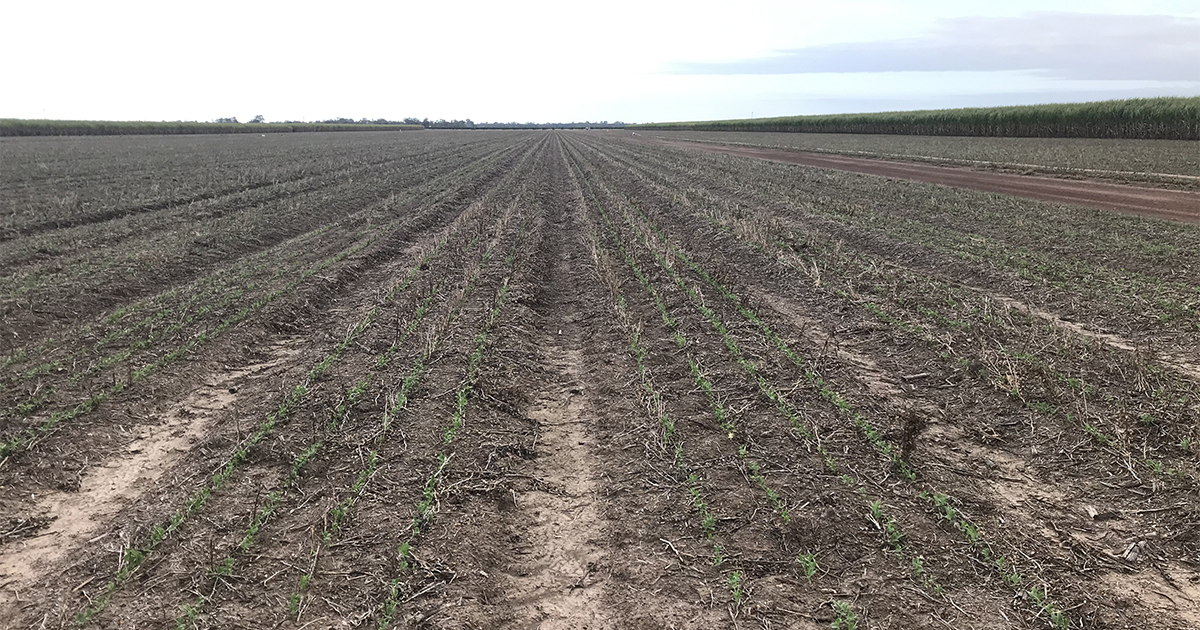 Management notes:
The field peas have emerged this week through the existing soybean stubble.
18-20mm of rainfall was recorded on Monday, which boosted germination.
Irrigation had started and 50% of the block was covered before the rainfall event.
A nutrient spray of sodium molybdate, zinc and molasses is planned within the next few weeks.
On the lookout for any vine weeds and if necessary an MCPA herbicide will be applied when the peas are at the 4 true leaves stage.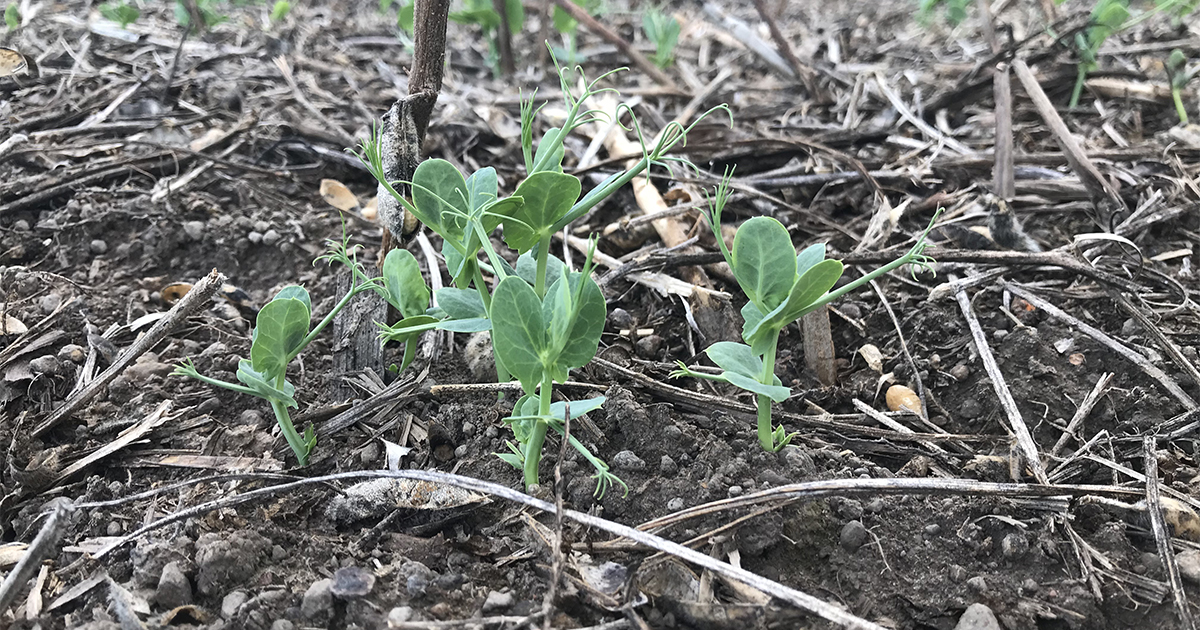 Field pea seedlings making the most of rain and irrigation this week.
Week 3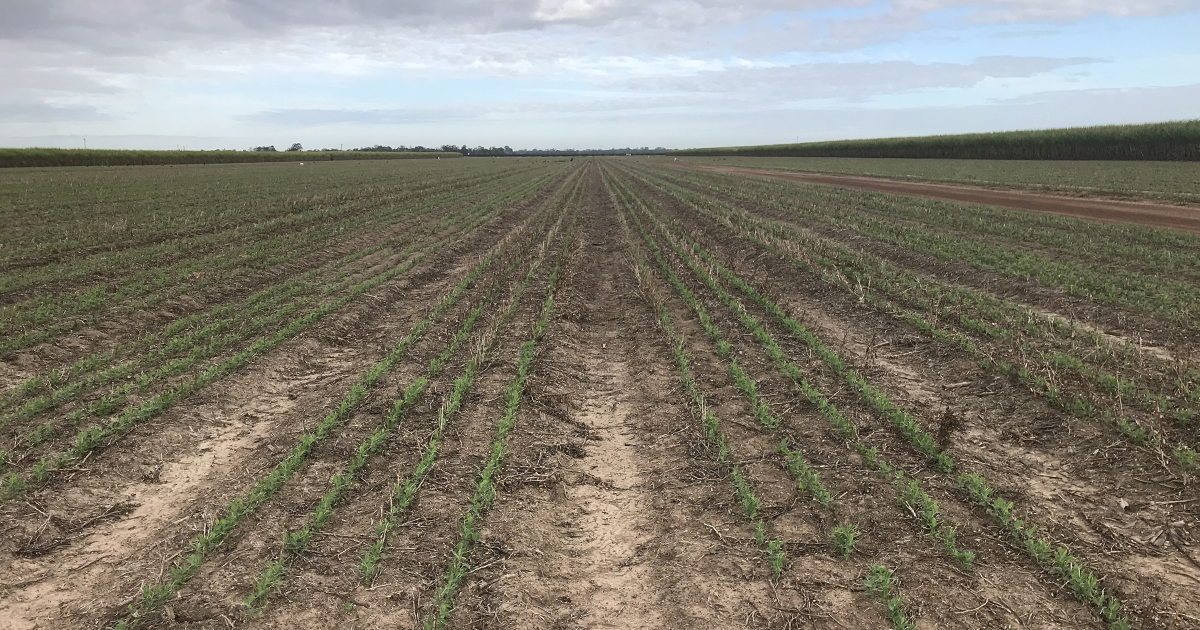 Management notes:
Plants are growing well with a mostly uniform germination. A small number of plants are late germinating.
Small percentage of germinating soybeans in the paddock but seem to be sick as a result of prior herbicide application.
This week trace elements such as sodium molybdate, zinc, molasses and urea will be applied.
A possible herbicide application to control convolvulus and germinating soybeans may be scheduled in the coming weeks.
Monitoring soil moisture to schedule the next watering.
Some damage to a few emerging seedlings where the plant has been cut off from the root under the soil. Possibly a cut worm issue but any other advice on the issue is welcome.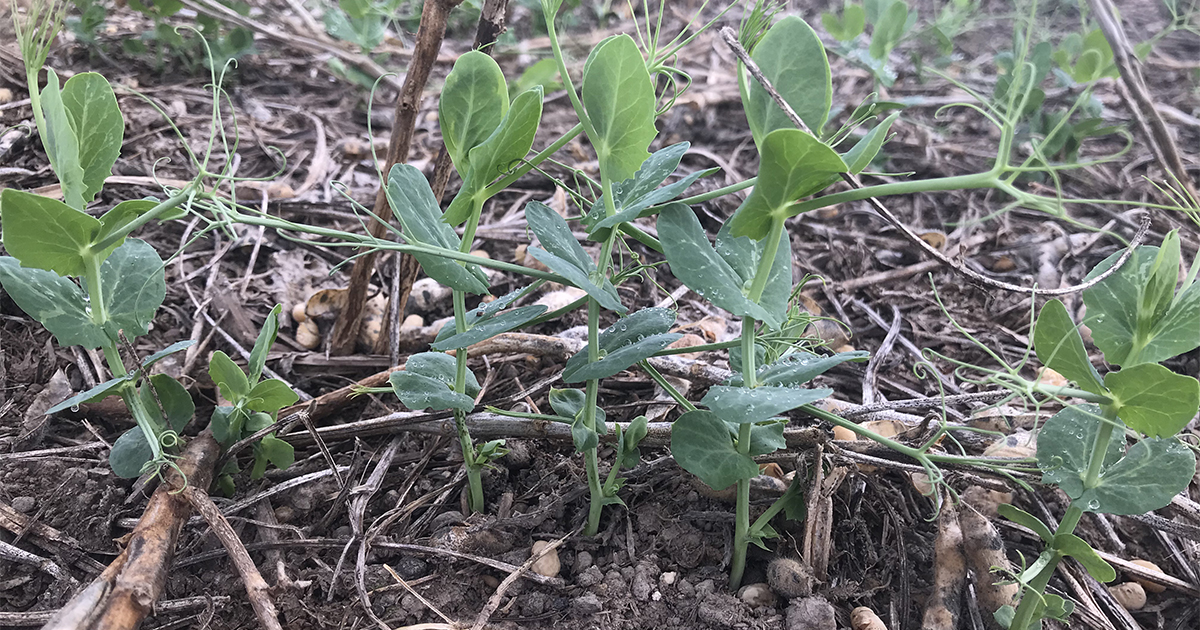 Strong emergence and growth.
Read Pulse Check blog articles | Pulse Check Coastal facebook | Subscribe to the monthly newsletter