Genetic response to Peanut Kernel Shrivel (PKS)
Plant breeding appears to be a possible solution to Peanut Kernel Shrivel (PKS). Plant breeders, led by PCA's Dr Graeme Wright, have observed a very large genotypic variation in PKS susceptibility/tolerance in their Variety Trials.
PKS is a kernel shrivelling condition caused by an insect-vectored Phytoplasma. Read more about the link between Phytoplasma infection and PKS.
What does PKS cost the industry?
PKS does not affect peanut edibility or end-use traits, but it has a significant impact on yield, kernel grades and returns. PKS appears to affect normal assimilate transport through funiculus/testa, resulting in reduced kernel size. Despite reduced size, kernels have normal taste/flavour, germination and blanchability (skin removal). However, with a lower percentage of larger Jumbo kernels and a higher percentage of kernels going to oil production, there is a significant financial penalty.
To date, PKS has been a bigger problem in coastal production areas around Bundaberg, although it has been observed to a lesser extent in the inland Burnett, Southern Queensland and North Queensland. Some years have a higher incidence than others. From 2010 to 2014 there was a downward trend in Jumbo % and an increase in shelling % of peanuts recieved from the Bundaberg area, with some recovery since 2014.
Over the past nine years, PKS has cost the industry more than $5 million with reduced returns to growers in the order of $500–1450/ha. There has also been an indirect cost with loss of confidence in growing peanuts in rotation with sugarcane in coastal production areas, which was set to expand significantly from 2010 onwards.
An elegant solution to PKS
Data supplied by Graeme Wright (PCA), Dayle Fresser, Lawrie Owens (DAFQ), Dan O'Connor (PCA)
Preliminary data suggests that the genetic control over PKS tolerance may be quite strong, opening up a real possibility for breeding PKS tolerance into future varieties developed for the industry.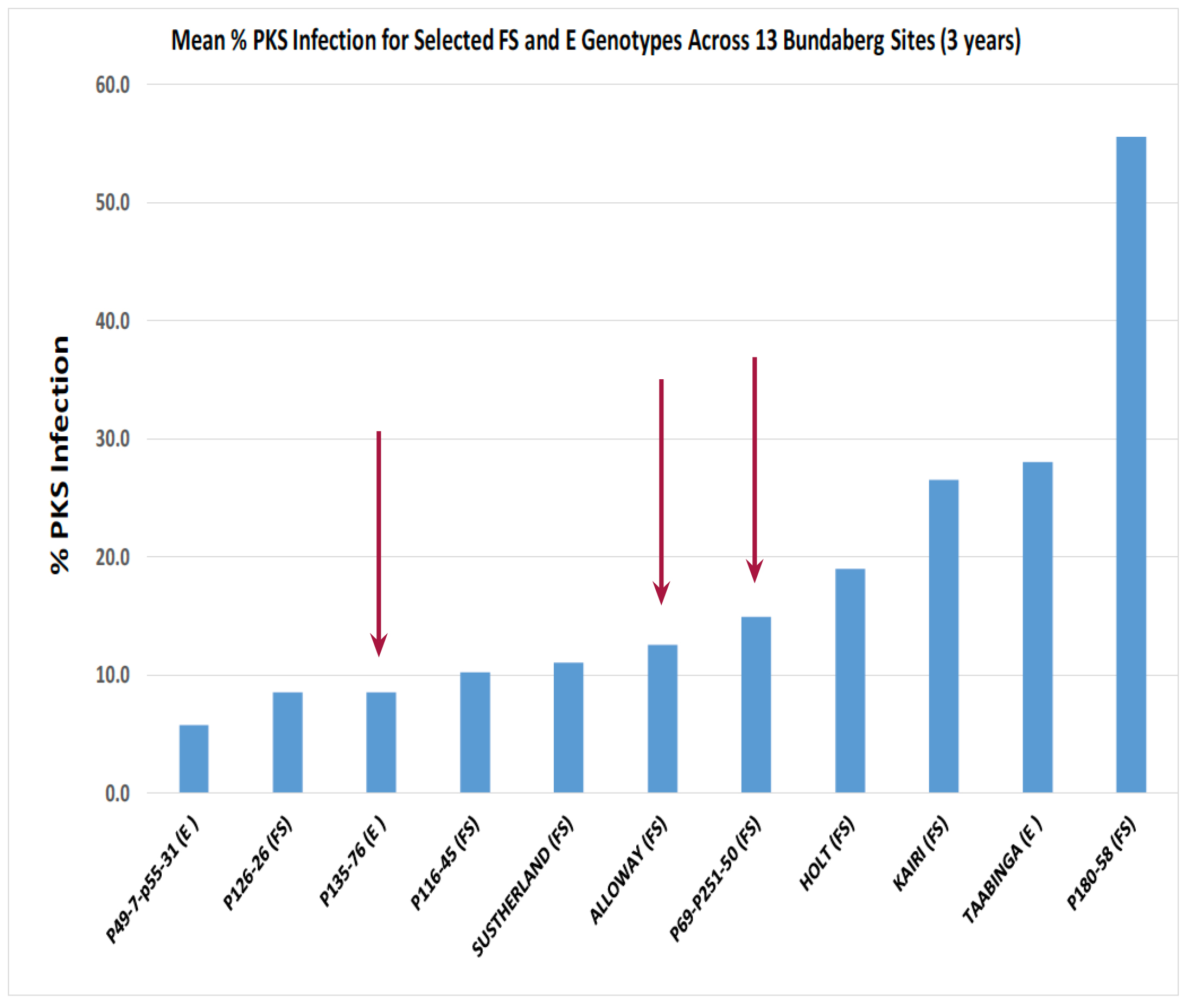 Potential new variety releases with tolerance to PKS
ALLOWAY (D304-17-p148-12) (Full Season Maturity)
Alloway (D304) is a double cross back to Holt.
D304 pod/kernel yields and gross returns are ~5% better than Holt
Foliar disease tolerance is significantly better than Holt, although it is susceptible to leaf rust.
D304 has very good tolerance to Peanut Kernel Shrivel (PKS) and has performed well in Bundaberg over a number of years
Due for commercial release in 2020/21
P135-76 (Early Maturity)
A 3 way cross between Redvale, Sutherland and Southern Runner with significantly improved yield, grade out and foliar disease tolerance
Up to 7.5% yield improvement on current early maturity check variety Taabinga
Very good tolerance to late leaf spot and leaf rust
P135-76 has very good tolerance to PKS and has performed well in Bundaberg relative to Taabinga check
Commencing Pre-level 1 seed production
P69-p251-20 (Full Season Maturity)
Consistent performer in regional variety trials with regards to yield and gross returns (up to 10% higher than Holt)
Good foliar disease tolerance, especially to late leaf spot
Good CBR tolerance
PKS tolerance better than Holt but not as good as Alloway.
Commencing Pre-level 1 seed production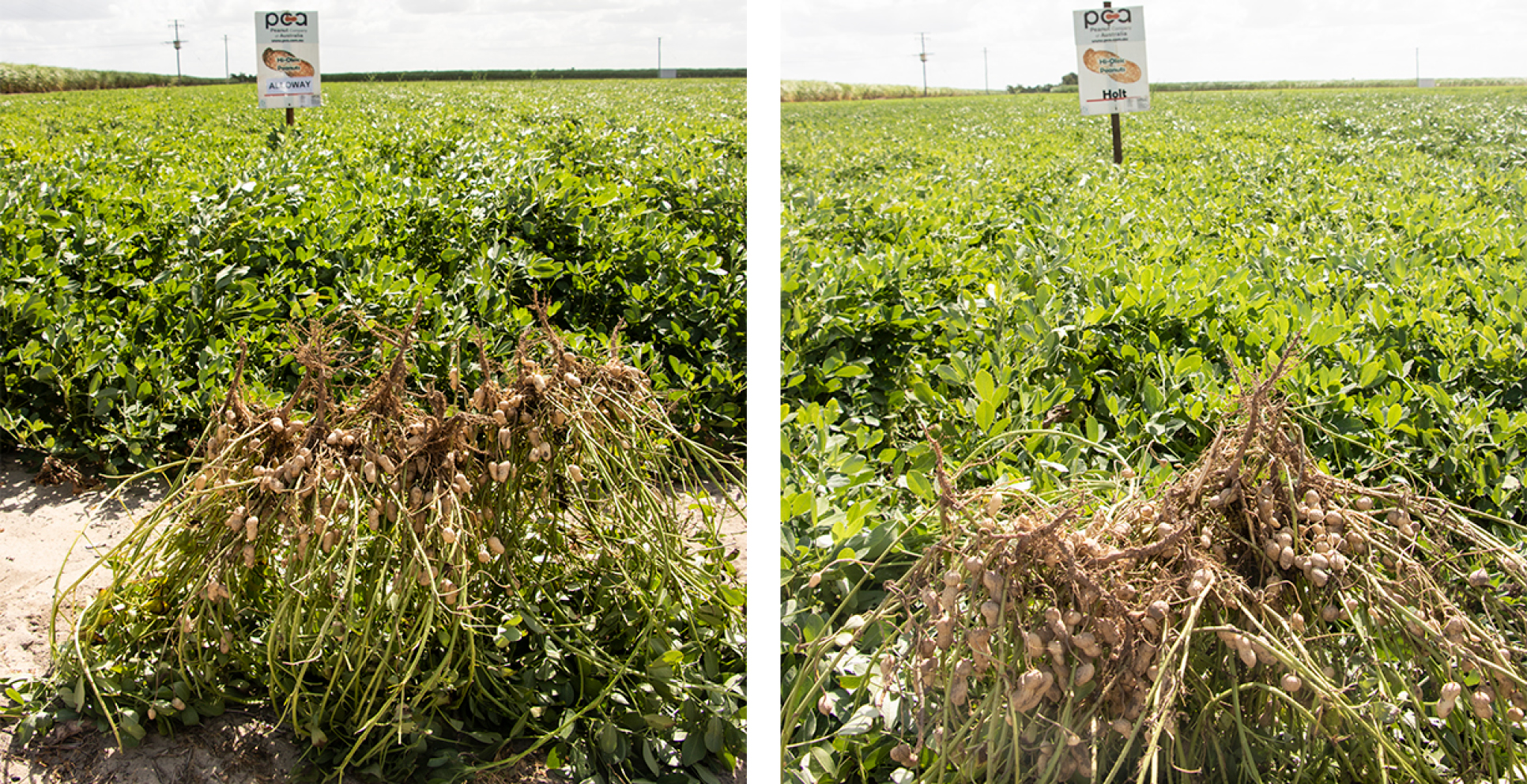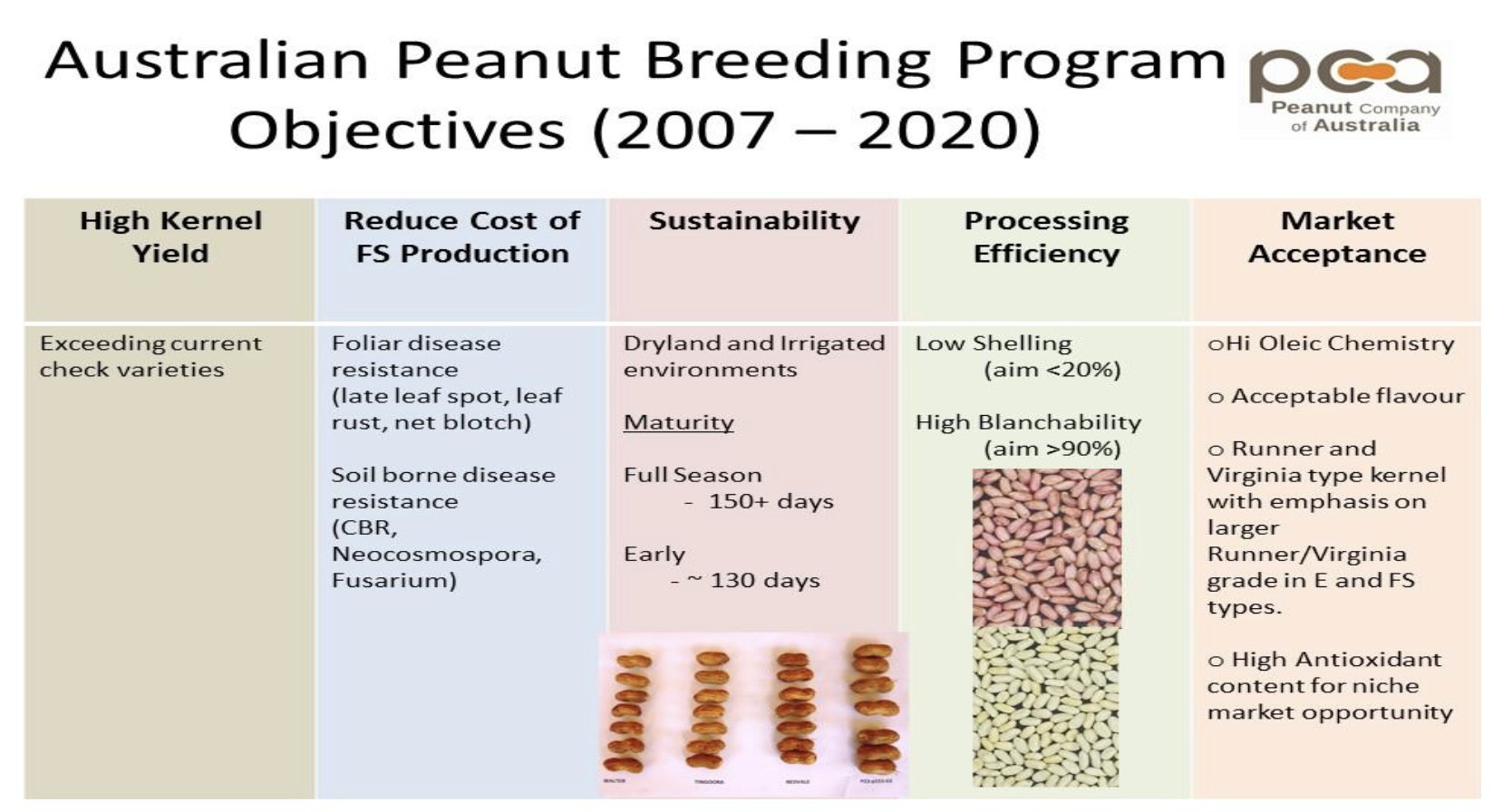 Download variety update handout.
Read Pulse Check blog articles | Pulse Check Coastal facebook | Subscribe to the monthly newsletter