2020 Hayman soybean on sandy loam – Giru
Grower: Armin Wessel.
Armin does his own bug checking but stays in contact with local agronomists to discuss problems and to be aware of problems that they see in the wider district.
Location: Giru
Area: 7.8 ha. The block of sugarcane was cut green and failed to ratoon so after a month Armin decided to burn the trash so he could plant soybeans quickly.
Soil type: Clay loam to cracking clay, some areas tend toward sodic (ESP around 6 prior to gypsum application).
Pre-planting preparation
Armin had previously EC mapped the partially sodic and salty paddock and had a prescription map for applying gypsum.
Gypsum was banded according to the prescription and he also applied 250 kg of KCl (=MOP) and 80 kg of Urea banded before zonal ripping to 400 mm and bed forming with his rotary hoe bedformer.

Planting:
Planting completed on 6 August.
Hayman soybean seed planting rate 330,000 seeds/ha.
In-furrow fipronil applied.
Seed inoculated with rhizobium in peat, using a cement mixer.
Planted with a Covington planter.
After planting:
2.5 L/ha Rifle (=Stomp) application. In a vine infested area Armin added 140g of Vezir ( =Spinnaker).
Installed fluming.
Update 1: 14 August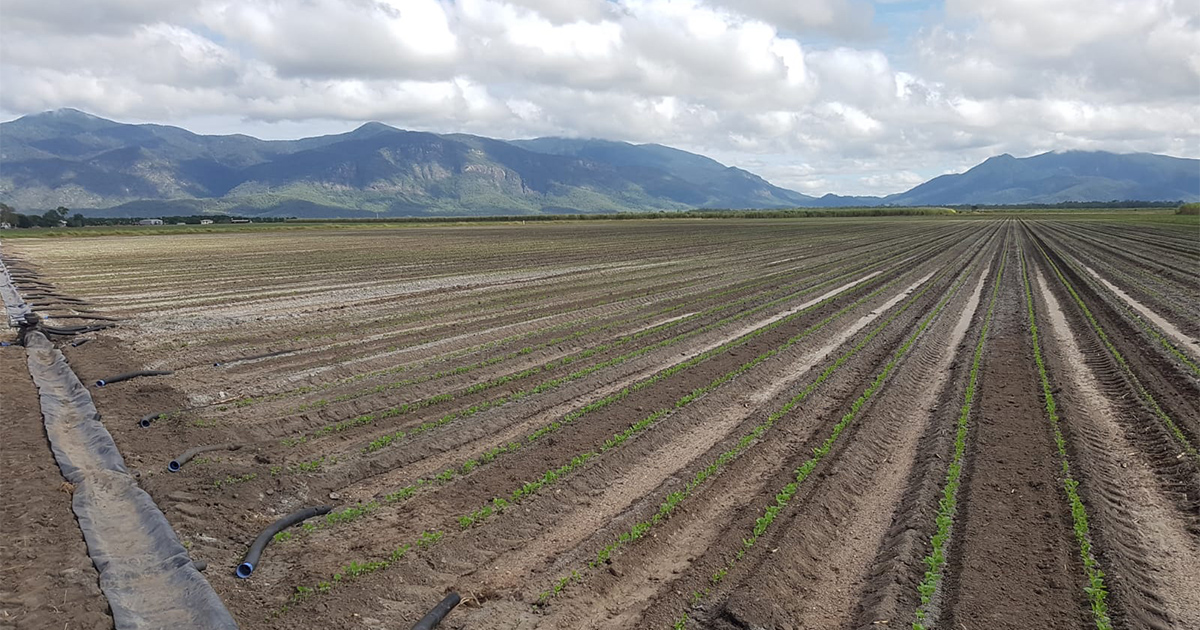 Crop has germinated well.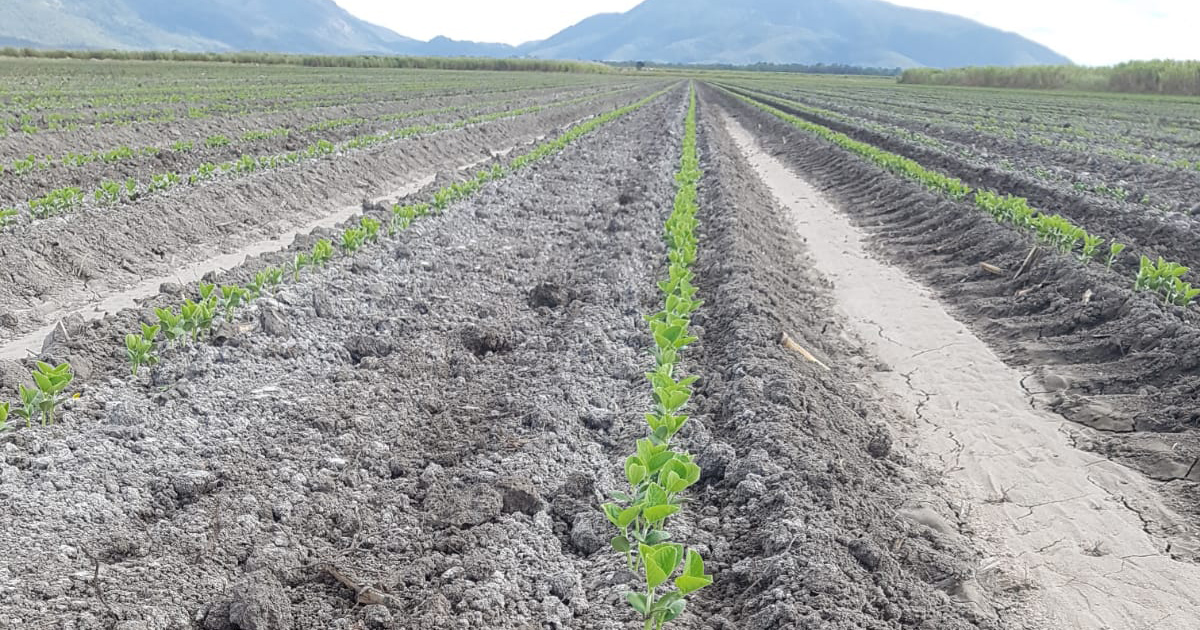 Update 2: 21 August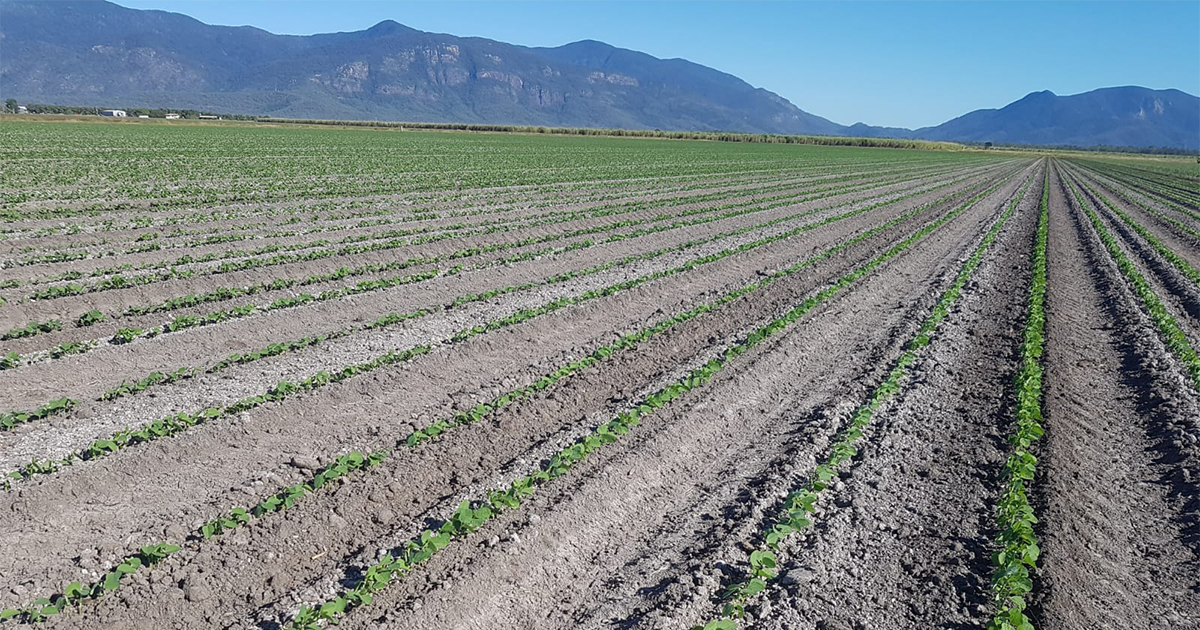 The Hayman block is growing well but Armin noticed a lot of vines came up even though preemergent Spinaker/Vezir was applied.
Armin expected the herbicides to be incorporated by 20 mm of rain and when that did not happen, he used flood irrigation. That worked well for the Stomp but either did not take the Spinaker down far enough or all the vines have come up but are severely stunted and won't grow any further as the label suggests.
The vines still look healthy, so only time will tell if Armin will have to use Blazer later on or do some more chipping to get rid of them!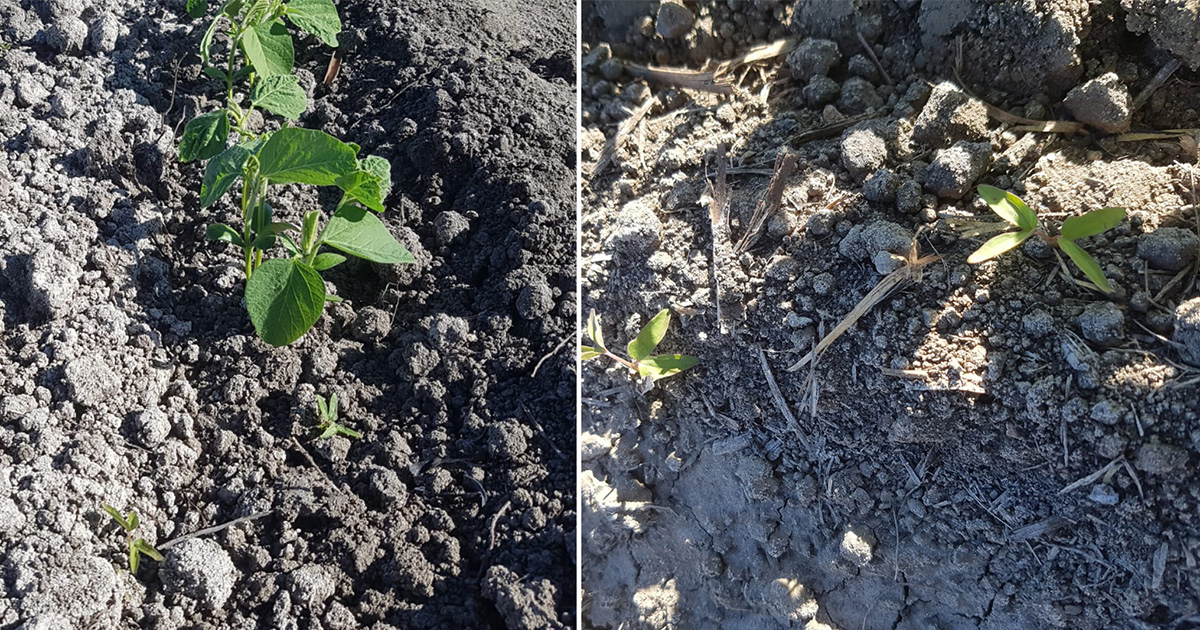 Update 3: 30 August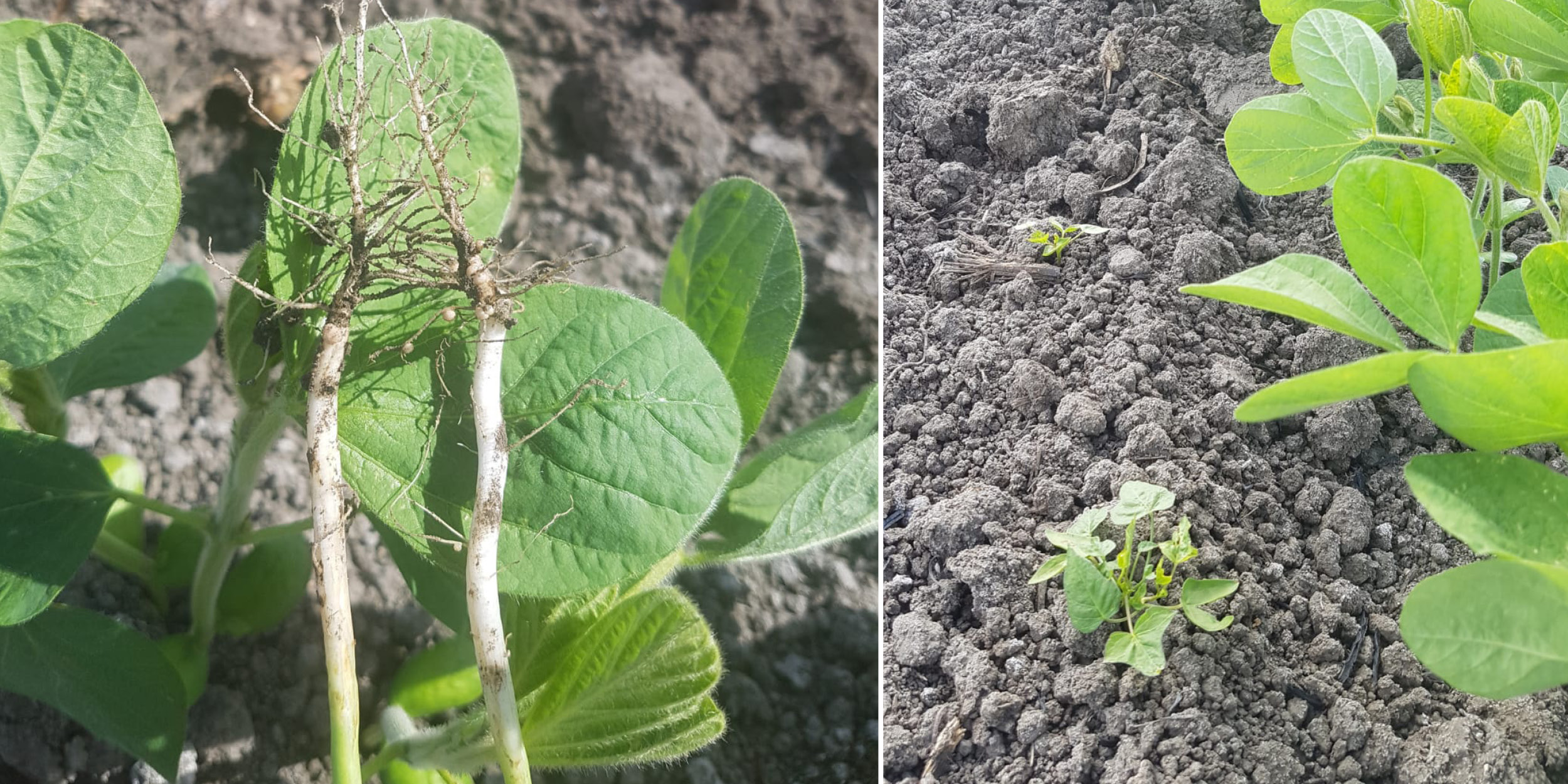 The Hayman block is moving along well and so far no insect damage.
Armin checked nodulation and so far it is not as good or as even as in the Kuranda block but generally looks good enough.
The vine issue went both ways: Some vine seedlings in the furrows show clear Spinaker damage while some in the furrow and all on the bed grew a lot bigger than Armin expected while he had a few days away from the farm. He has seen first hand that Spinaker needs overhead irrigation or rain in order to work as a preemergent against vines.
Blazer was applied to treat the surviving vines.
Armin would like to water this block early next week but will have to stress it a bit because he needs to avoid wetting the tail drain when there is cane due to be hauled through it in about 10 days from now.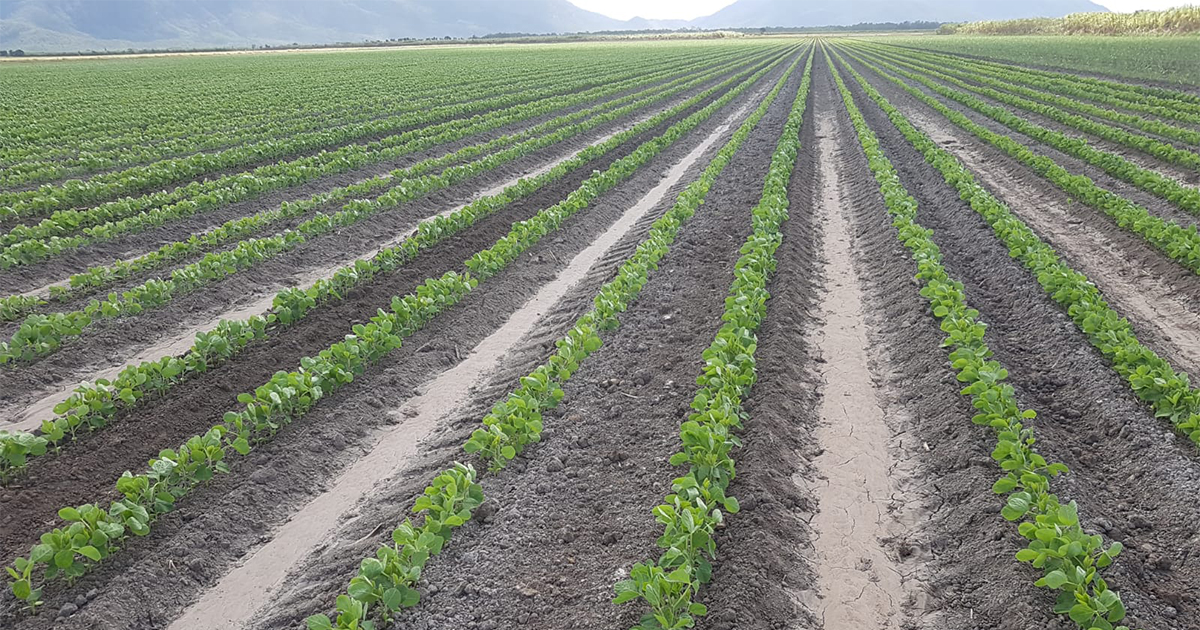 Update 4: 15 Sept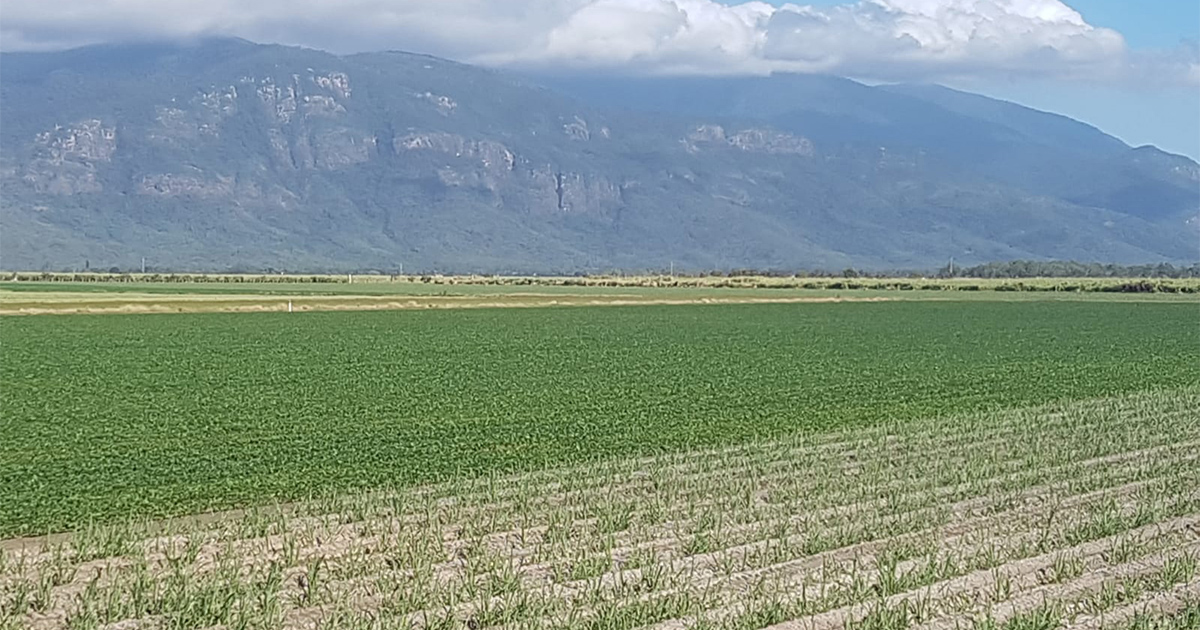 The crop is starting to stress quite a bit especially in some saltier spots. The cane block Armin was waiting for was cut today, so he will start irrigating the Hayman block from tomorrow onwards.
Armin has installed GDots in both the Hayman and Kuranda blocks to keep better track of soil moisture. Since he works with zonal tillage he has put permanent conduit in at 65 cm depth for the cabeling and let that come up in a furrow. He then put the gypsum block 25 cm below the first soybean row on the next bed. His plan is to take the gypsum block out of the bed when he works it and then reinstall it when the next crop is in.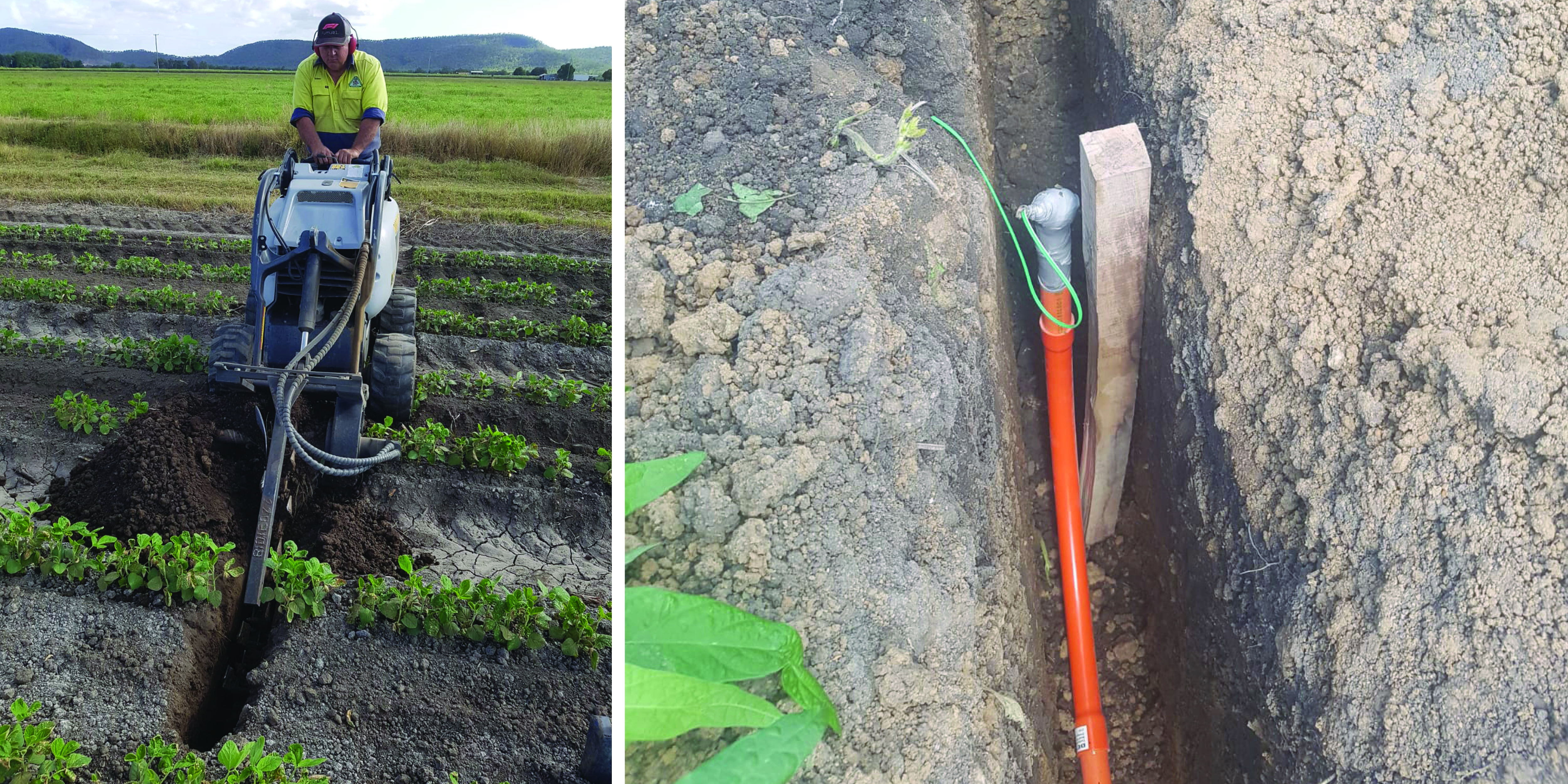 Installation of GDot soil moisture monitoring system.
Update 5: 20 Sept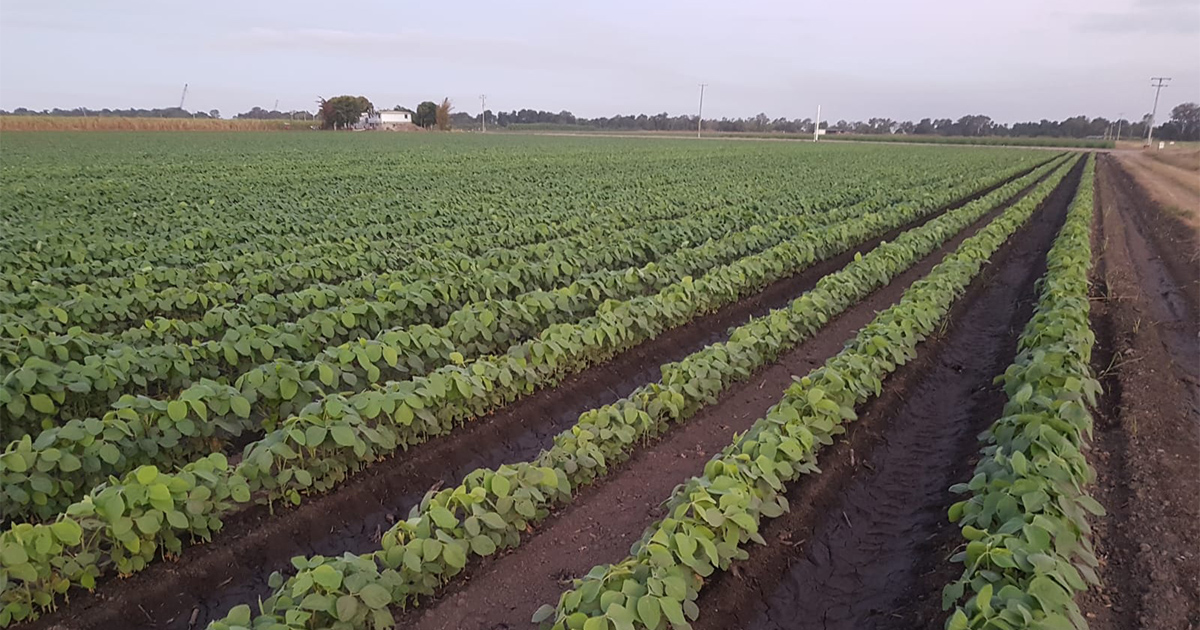 In a few areas with soakage or salinity issues the beans did not like the delay in irrigation.
In the rest of the block the beans are growing well and responding to the irrigation.
Armin plans to apply foliar zinc late next week.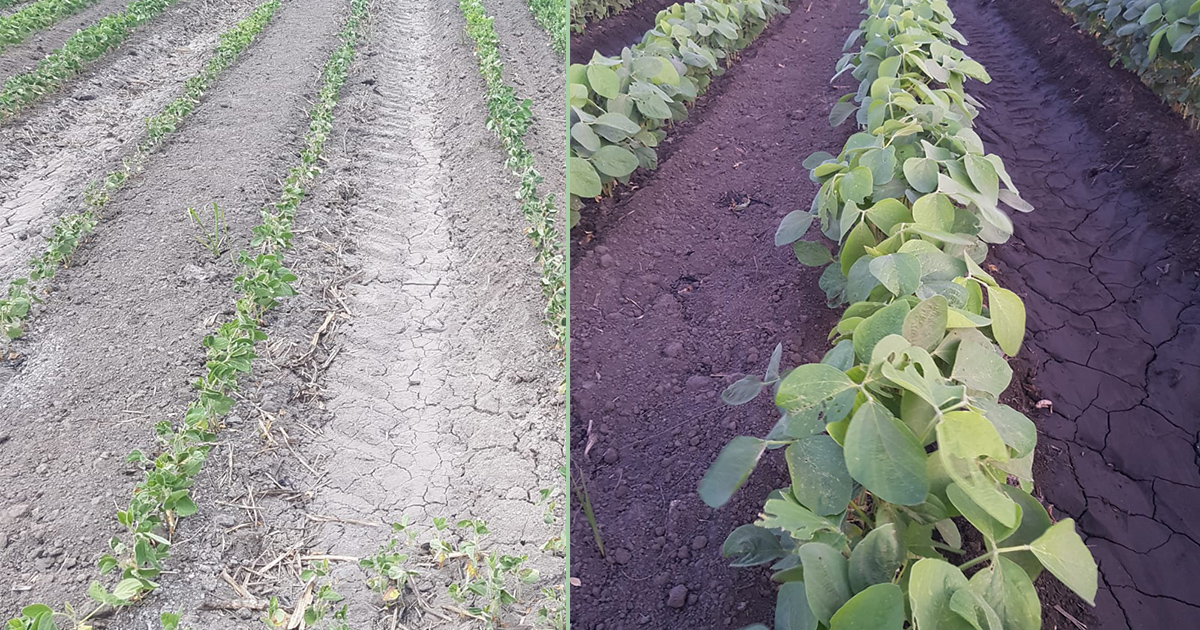 Salt levels in the soil (left) exacerbate the effect of delayed irrigation.
Read Pulse Check blog articles | Pulse Check Coastal facebook | Subscribe to the monthly newsletter